This month's book,
The Dreaming Suburb
by
R F Delderfield
, is one set locally to wear I live, which is always a matter of great curiosity, to see a place one knows at a different time and through different eyes. The novel is set at the far edge of
Addiscombe
, about a mile and a half east of central Croydon, then the far edge of London, where a street of suburban houses hit the countryside. Although sadly and predictably swathes of suburbs have covered much of that countryside since. The action opens as the First World War finished and followed various residents of the avenue through to the beginning of the second war, via the vicissitudes of the intervening years.
R F Delderfield
Delderfield writes in defence of the suburbs, already by the 1940s (when he wrote the book) denigrated, arguing that residents of suburbs have dreams and worries, hopes and fears, just as a city or country dweller has. It is clear that he enjoyed his time living in Addiscombe as a child and that he retained vivid memories of the place. He has changed very little about his descriptions, depicting Addiscombe almost exactly as she was and is, almost street by street.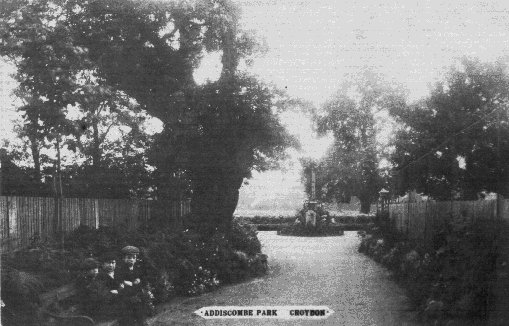 "The Rec" 1918
This is not a great work of literature but it is a pleasant, relaxing and engaging read: the characters are engaging and "real" and he is skillful at weaving a story through their various lives and the events that surround them. Throughout there is a definite sense of how people react in their various ways to the history that surrounds them, in this case things like the General Strike and the Munich crisis. The change in the suburb is charted too as the great houses decay and streets of terraces fill their grounds.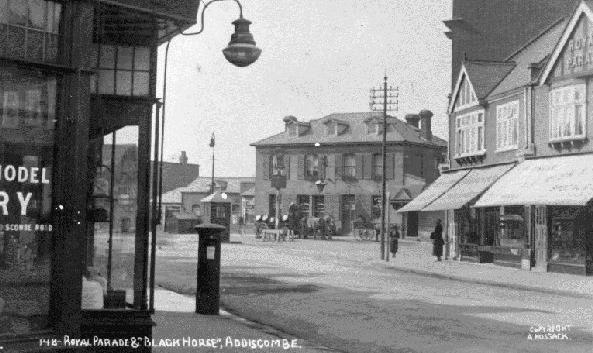 "The Lower Road"
Croydon as a whole has a bad reputation and a low self esteem (if one can say that of a place?) these days and so it is lovely to see a time in her past when this was not so. A lot of these problems have come about from appalling decisions made in the second half of the twentieth century and which continue today. But Croydon does have a proud past and we should celebrate it more, from the
Old Palace
, regularly visited by kings and queens, especially Elizabeth I, to the
college of the East India Company
and the
world's first international airport
, which saw Amy Johnson return from her solo flight to Australia. Croydon has other literary claims to fame, for example, at the time that Delderfield lived in Addiscombe, D H Lawrence was living a few streets away, teaching at a nearby school and beginning his literary career and in the previous century Arthur Conan Doyle had lived a few miles away in South Norwood.
But to get back to
The Dreaming Suburb
, I would recommend it as a gentle, well written book, which captures a time in our life as a nation through the lens of an ordinary street of ordinary people, a perspective different to most histories.
Photographs of Addiscombe past from
here
To see the other entries in The Year in Books
click here