Yet again I have let the month almost slip through my fingers and get away without me having written about this month's book, or rather books, as this month's book is truly a trilogy, although made up of comparatively short books. Ursula Holden's
The Tin Toys trilogy
, consisting of
The Tin Toys
,
Unicorn Sisters
and
A Bubble Garden
. Like Penelope Fitzgerald, Ursula Holden began writing comparatively late in life, after attending a creative writing class in her late forties. The novels are about three sisters growing up in England and Ireland around the time of the second world war. Each novel is narrated from the perspective of a different sister, providing fresh insights and perspectives on the girls' joint past and uncovers what each knows about the others.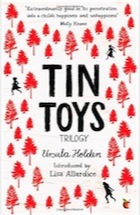 I bought this on a whim, as I had a dentist's appointment coming up and our dentist always runs late, making a good book a must for the waiting room, and I must admit I had vaguely expected something a little cosier. Whereas these books are far from cosy, they make up a tale of neglect, of children pushed from pillar to post and considered an inconvenience by their mother who would rather follow her own path. I get the impression that the children's mother feels that as her husband has died and thereby deserted the family, she is entitled to go too. So the children move from one unsuitable place to another and endeavour to bring themselves up, searching for love and trying to make a home wherever they end up. Holden evokes places as they seem to a child well, making her places atmospheric and her people real, with all their flaws. In many ways the adults around these sisters are every bit as lost, damaged and vulnerable as the children and just as unable to find their way through a changing world. For a key theme of the novels is that of class and the impact the second world war had on the lifestyle of the upper classes. In this new world it is the lower classes who thrive, while the upper classes struggle to adapt and are without suitable resources.
Ursula Holden photographed by Fay Godwin in the 1970s
In many ways I was reminded of Noel Streatfeild's wartime novel for adults
Saplings
, which deals with similar themes of neglect and the way children could be pushed from pillar to post during wartime. Both novels do much to dispel the sometimes cosy image we get of the second world war; there is no cheery Blitz spirit to be found. Other novels exploring similar themes include Streatfeild's first novel
The Whicharts
(later re-written as
Ballet Shoes
) and Eleanor Graham's
The Children Who Lived in a Barn
. While Marghanita Laski's novel
The Village
explores similar themes of the war's impact on society.
In summary I would recommend
The Tin Toys Trilogy
most heartily; I read it in great gulps, riveted and wholly inhabiting their world and will have to go back and re-read it, hopefully more slowly. Although I am currently attempting that with Rebecca West's magical novel
The Fountain Overflows
and for all my good intentions I get too drawn in to go slowly and instead read it in great deep draughts. Do you find you have the same problem with some novels?
Virago have republished
The Tin Toys
as a Modern Classic and I sincerely hope that they republish more of her books soon.
Here
you can hear a short interview with Ursula Holden, who is in her nineties and living in a convent nursing home in West London.